QTS Partners, L.P. is a multi-strategy commodity pool ("Pool") managed by QTS Capital Management, LLC. ("Adviser"). The Adviser is a Commodity Pool Operator registered with the National Futures Association.
Highlights
A diverse pool of fully automated, absolute returns investment strategies.
Focus on highly liquid instruments with predominantly intraday positions.
Low correlation with equity market index.
Little overall exposure to market and volatility risks.
Pool Monthly % Returns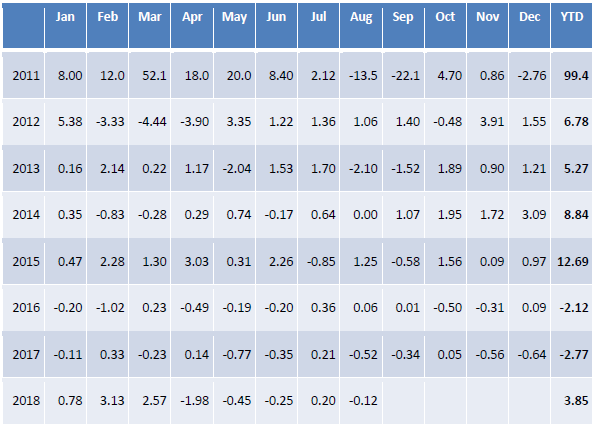 Pool Summary Statistics 

Details
The displayed returns embedded a leverage of over 10 in 2011, but currently the Pool has a maximum leverage of about 2. The performance data for the period from January to June 2011 represents the performance of Ernest Chan (Managing Member of the Adviser)'s personal brokerage account,  and is not Pool performance. However, the strategies deployed in this account were substantially the same as the initial strategies deployed in the Pool. The performance data for the period from July 2011 onwards represents returns of the Pool net of all fees and expenses. Performance data for the period January 2012 onwards are audited. All returns are filed quarterly with the National Futures Association. The Pool charges a performance allocation of 20%, taken monthly, subject to a high water mark, but does not charge asset management fee. Redemptions can be made monthly.
All investments involve risk, including the loss of principal. There can be no assurance that the Pool will achieve its objectives or will otherwise meet the Adviser's expectations. We currently can only accept clients who are Qualified Eligible Persons defined in CFTC Rule 4.7.
Please email Ernest Chan, Managing Member of the Adviser, for further information.
PAST PERFORMANCE IS NOT NECESSARILY INDICATIVE OF FUTURE RESULTS.